The winter is well on it's way and we are looking forward to some of the best conditions the UK can offer. Typical that the windiest and waviest conditions are often the coldest! Just make sure your prepared with the right clothing – wetsuits, boots and gloves are a must.
Already the wind has been making an appearance and gave us some epic wave sailing conditions right on our doorstep.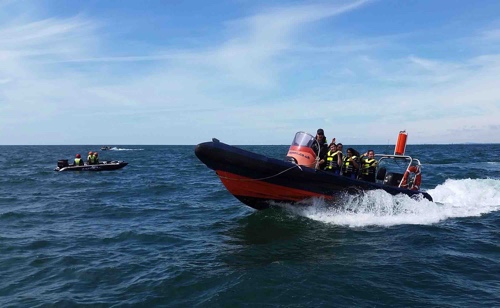 On Tuesday with the tail end of hurricane we had some great conditions with cross of winds of 30 knots with gusts up to 50, producing some nice waves as well – Hove at it's best!
Hove is a great place to sail, producing great conditions as well as offering hot showers and coffee and cake after you sail.
Gareth is one of our regular sailors, he says "I've been an avid Windsurfer for twenty three years and hopefully will continue to do so for at least another twenty three. I loved it as soon as I jumped on the board and instantly new that it could give me something that very few other sports could (Adrenaline rush). I was keen on all sports as a youngster but as soon as my dad taught me to Windsurf I new it was going to take over my life and that it was something that was going to become an addiction rather than a hobby! I first Windsurfed at Hove Lagoon when it opened almost 20yrs ago! wow getting old! straight away loved the atmosphere and the facilities it provided. Until then most Windsurfers were loan creatures changing in the cold out the back of their cars, but all of a sudden we were now Windsurfing with many like minded individuals and being able to have hot showers with great club house facilities!! (Still a dream for most Windsurfers to have a hot shower on the beach and a decent cup of coffee, whilst watching a Windsurf dvd). The centre has top of the range equipment to hire and I'd advise anyone taking up the sport to take advantage of them being there, and get out on the water a.s.a.p"
At the Lagoon we are lucky to have a great mix of windsurfing levels, it offers an ideal location for every level of windsurfer, there is a suitable spot for everyone.

For those new to windsurfing or improving their newly found skills there is the Lagoon, a enclosed safe, shallow area of water, ideal to gain confidence.
Just over the promenade is the sea, where Intermediate and Advanced sailors can take advantage of some of the best windsurfing along the south coast. Hove produces some classic bump and jump days, creating some big swell – whether you're a spectator or a sailor it can be extremely exciting.
We have top of the range fanatic and north kit, fully qualified experienced and friendly staff who have a massive passion for windsurfing.
At Lagoon Watersports we offer top tution, whatever your level or ability. Find out more here.